Wiltshire is not only a beautiful county for a sedate stroll in the countryside with your dog. Dotted along its leafy lanes and nestled amongst chalky down-land are some stunning dog-friendly gardens.
Now when it comes to my great loves in life, it'll come as no surprise that dogs feature top of the pecking order. However, not far behind is my love of nature, in particular flowers and gardens.
Much I try my best to be a green-fingered goddess, it doesn't always go to plan. However, it doesn't stop me appreciating the beauty, and being in awe of other people's handiwork.
Thankfully, my lovely Mum shares much the same interests as me. And few things beat a day out idling around beautifully manicured flower beds, admiring the blooms and wishing they'd grow half as well in my own garden!
Over the years we've discovered a few fabulous dog-friendly gardens in Wiltshire. Some have become firm favourites and earned an established place in our calendar of annual outings.

Bowood Woodland Gardens – Open Mid April to Early June 
I'll start by telling you about one of my all-time favourites, Bowood Woodland Gardens. Just a stone's throw from where I live, these gardens are a treasure trove of colour in late Spring and early Summer. 
They are only open for a short season each year, but this merely adds to their beauty and sense of magic. 
It really is a horticulturalists paradise. With over two miles of sweet-scented footpaths to explore it's the perfect way to while away a Spring day. 
Colourful rhododendrons and a myriad of delicate azaleas and magnolias line the meandering footpaths. Whilst underfoot carpets of bluebells add a pop of colour to the woodland floor. It's photography heaven!
There are toilet facilities on-site and a Shepard's Hut selling refreshments. If you're a coffee fanatic, I can highly recommend the flat white! It's the best I've had anywhere, and topped off with a slice of scrumptious caramel shortbread it makes for the perfect elevenses treat!
Dogs have to remain on leads, as is to be expected. Poppy and Gertie always have a lovely time though sniffing all the scents and smells the woodland has to offer. It makes a nice change from our usual walks across the downs where they can run free to their hearts' content.

Iford Manor Gardens – Open April to September
Iford Manor Gardens are a complete gem. Situated near the historic town of Bradford on Avon, these gardens were used as the backdrop for The Secret Garden starring Colin Firth and Julie Walters.
The garden is so different in character from Bowood's Woodland Gardens but equally as charming.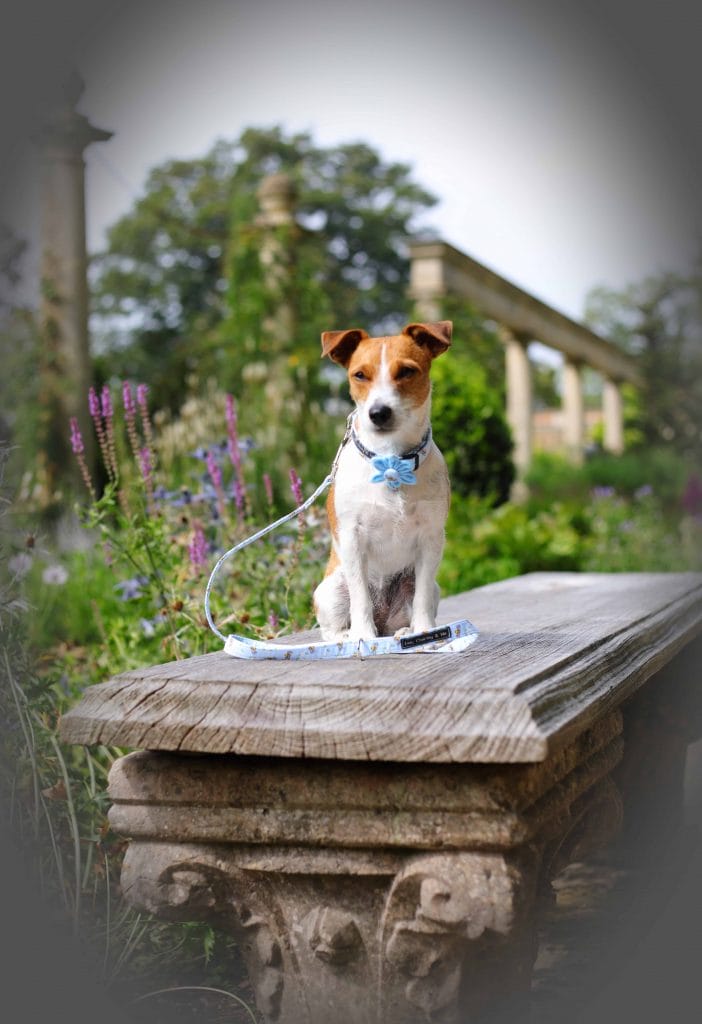 Wandering around Iford Manor Gardens is rather like stepping into another world. It's a perfect equilibrium of formal borders, babbling waterfalls, tranquil seating areas, and neatly manicured box hedges.
The gardens aren't huge by any means, but there are many different areas to explore, each with its own unique atmosphere. You can easily spend a few hours here whiling away a sunny afternoon. 
The impressive Italian inspired architecture provides a tranquil place to sit and ponder the world. And the Cloister offers the most breath-taking views across a vista of unspoiled Wiltshire landscape.
Dotted around the grounds are interesting sculptures and impressively framed borders, creating a somewhat intimate feel to each area of the garden.
Picnics are not permitted in the grounds, but the newly opened cafe is not to be missed! Serving delicious lunch platters, homemade cakes, and cream teas – it really is a treat!
And even better, the cafe is open on limited days throughout the Winter, and non-garden visitors are welcome too.
Well behaved dogs are allowed on leads in the grounds and in the cafe. Children under 10 are not allowed in the gardens.
The Abbey House Gardens – Open March to October 
Nestled in the shadow of the impressive Malmesbury Abbey is Abbey House Gardens. Tucked away from the hustle and bustle of the town centre these stunning gardens are not to be missed.
Steeped in 1300 years of history, the gardens are the burial place of the first King of England.
Home to over 2000 species of roses, 100,000 tulips, and 10,000 different plant species the gardens are truly spectacular. What's more, they provide a constant array of colour right through the seasons.
The garden is famous not only for its horticultural prowess, but was also home to the Naked Gardeners. Ian and Barbara Pollard were resident gardeners on ITV's This Morning for a short time and were renowned in the local area for being scantily clad!
[For those more daring among you, the gardens still host Clothes Optional Days from time to time.]
A Garden of Two Halves
The garden is separated into two sections. The more formal section is laid to lawn lined with colourful borders, cute box hedges, and impressive designs of towering topiary.
This is intermingled with a laburnum-covered walkway, ponds laden with lily-pads, fragrant herb gardens, and a myriad of climbers and foxgloves.
Winding paths lead down to the lower section of the garden which has a Japanese inspired aura. Colourful Acer trees, combined with an impressive collection of shade-loving plants frame the steep pathways.
And upon completing your descent, the gardens straddle the River Avon where a spectacular waterfall provides the perfect soundtrack to sit and take in the beauty of the gardens.
Abbey House Gardens is home to a resident tortoise who Gertie was rather obsessed by! She's a huge fan of Bert, our tortoise at home, so it was no surprise she went slightly crazy when she saw him ambling about!
There is also the Coy Carp Cafe which is dog-friendly. Unfortunately the cafe wasn't open when we visited, but it looks the perfect place to enjoy a spot of lunch. It is thoughtfully positioned next to The Stew Pond where a shoal of vivid koi carp provide mesmerising entertainment.
I hope we have inspired you to explore some of our favourite dog friendly gardens of Wiltshire. If you know of any others, please get in touch as we'd love to hear about them.
If you'd like more ideas for dog-friendly days out in Wiltshire you may like to read our other blog 5 Dog Walks in Wiltshire with a Dog Friendly Cafe or Pub
Woofs and Wags
Kate, Pops and Gertie
xox