Somewhere in the middle of delightfully dog-friendly, charmingly cosy, and nicely nautical sits Hidden Gem, a perfect little holiday cottage in Norfolk.
A true home from home situated in the pretty coastal village of Winterton on Sea, this cottage is all about location, location, location!
[I mean the sand dunes are your back garden for goodness sake, it doesn't get much better than that!]
For those of you who are regular readers of our blogs, you may remember at the beginning of March 2020 [when lockdowns sounded like something that only happened in prisons] Pops and I visited Norfolk.
It was just the two of us, as little Gerts was teeny at the time so she stayed at home with my parents. This time though, all three of us embarked on our East Anglian adventure and had a proper girlie weekend away!
To the north of Great Yarmouth, Winterton on Sea has so much to offer. With miles and miles of beautiful unspoiled beach, a village shop, pub, cafes, and even a fish and chip shop, it really is the perfect place to escape from it all and soak up the peace and quiet of rural coastal life.
As its name would suggest Hidden Gem is well off the beaten track, but is still within easy walking distance of all the village amenities.
There's a parking space for one vehicle at the front of the property, so unloading upon arrival was nice and simple. There's nothing worse than arriving with everything but the kitchen sink and having to cart it a mile down the road! [We never travel light by the way!]
A Charmingly Cosy Cottage
The cottage just oozes charm, and I have to be honest, it is, without doubt, the cosiest place we've ever stayed. As you enter the property you are struck by its welcoming ambiance. With an impressive array of dog-related trinkets dotted about, it didn't take us long to feel well and truly at home. 
The property is rather quirky in its layout, but this only adds to its appeal. You enter via a conservatory area, the perfect place to sit and doze on a warm, sunny afternoon!
A set of french doors leads through to the cosy sitting room, complete with a log-burning stove, and then to the rear of the cottage, beyond the bathroom, is the kitchen which overlooks the sand dunes. 
The kitchen is bright and airy with every modern appliance you could wish for. Waiting for us on the farmhouse table in the middle of the kitchen was a very generous welcome hamper boasting some of the local delicacies and a bottle of Prosecco.
The fridge was stocked with milk, and there was tea and coffee. There was also a selection of herbal teas and a Tassimo machine, complete with complimentary coffee and hot chocolate pods.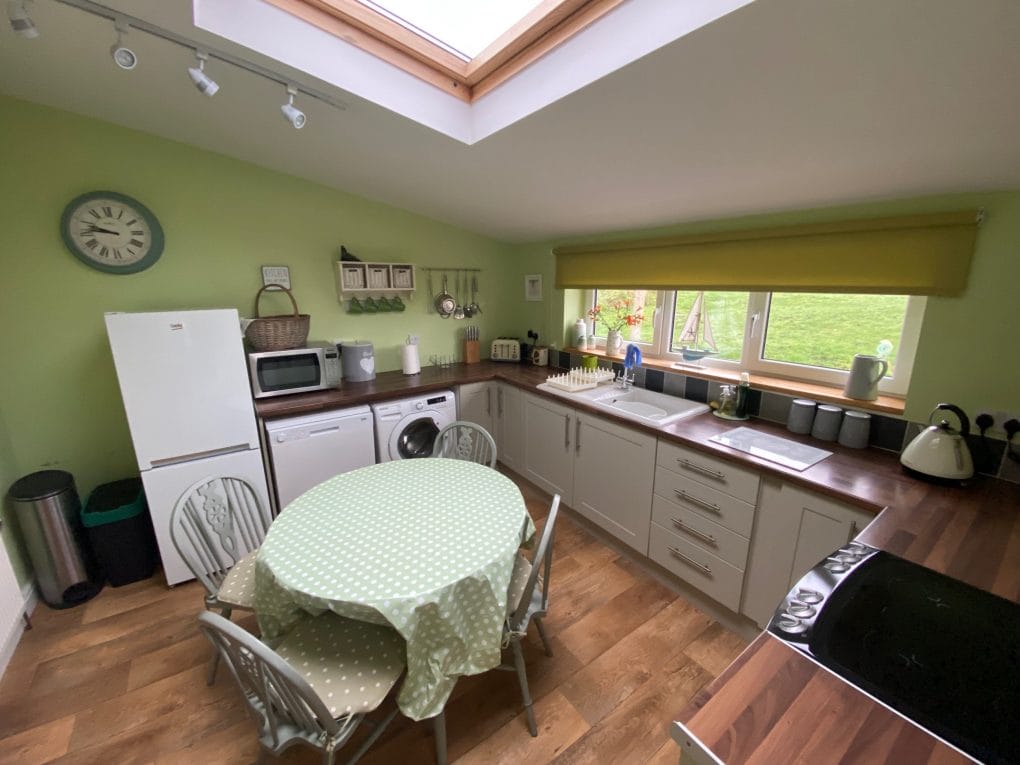 The dogs weren't forgotten either, and Poppy's face lit up when she saw their doggy welcome bag included a tennis ball! 
Upstairs there are two bedrooms. A spacious double bedroom, above the kitchen which overlooks the sand dunes. And a nautically-themed twin bedroom to the front of the property which Gertie took quite a liking to! [I can't think why she thought this bed was for her!] 
Everything throughout the property is beautifully clean, including the bathroom which is tastefully decorated in shades of aqua and teal. Bedecked with seaside paraphernalia such as cute wooden sailing boats, starfish, shells, and lighthouse light pulls, it makes for very cosy bath-times.
[I'd happily have my whole house decorated in seagulls and sailing boats, but apparently, as Wiltshire is land-locked it's not appropriate!]
The log burner has to be the real highlight of the cottage for me though. Evenings in with my girls, snuggled in front of a roaring fire are just heavenly. I even became quite a pro at lighting it by the end of our stay – a proper Girl Scout!

A Delightfully Dog Friendly Cottage in Norfolk
Dogs are treated as one of the family at Hidden Gem, echoed by the fact there is no additional charge for canine guests.
There is a selection of dog beds that you are welcome to use. Although I did bring their own, as Pops loves her memory foam mattress!
There are also dog crates in the outdoor storage and a dog gate for the stairs is available on request.
You will also find a wicker trunk in the conservatory full of blankets, throws, and towels to ensure your dog feels well and truly at home during their stay.
In terms of house rules, dogs are allowed anywhere [music to my ears!] Although, you are asked to use throws on the furniture and particularly on the beds, which is perfectly understandable. 
There are Hidden Gem dog tags for when you're out and about – just in case your dog decides to take an unguided tour of their own! There are even dog toys to keep them amused during their stay. 
They really have considered everything, including an outside tap to hose down sandy paws in the enclosed courtyard garden. Although, if like Pops and Gerts, your dog is only used to be being bathed in water above a certain temperature, you are invited to use the human shower/ bath – provided you de-dog it afterwards!

Dog-Friendly Days Out Near Winterton on Sea
As I said, Hidden Gem is all about location! And on the first morning of our stay, we were all eager to investigate beyond the sand dunes in the back garden.
We all strode out, meandering our way through tufty clumps of grass, only to discover the local seals were in pup, and so access to the beach was forbidden by wardens who patrol the area! 
November to January is breeding season for the grey seals that inhabit Winterton on Sea and nearby Horsey beach. To approach them when they are in pup can cause the mothers to abandon their young. Plus, they can give a nasty nip to dogs and humans if provoked.
The seal invasion didn't ruin our fun though, as there are miles of sand-dunes to explore. We kept catching glimpses of the seals sprawled out on the beach and bobbing up and down in the sea. It was magical – I could have watched them for hours!
Right next to Winterton beach is an Airstream cafe. It doesn't look much from the outside, but it became a bit of a daily ritual for us! They do a mean flat white that gave me the caffeine injection I needed first thing in the morning! Apparently, their breakfasts are very good too by all accounts. [Maybe next time when the weather is more suited to eating alfresco!]
Along the coast, you are spoilt for choice when it comes to dog-friendly beaches, pubs, and cafes. In fact, had we have visited every suggestion in the very comprehensive welcome folder, we would still be there in 2022! 

Dog-friendly Cromer
About 45 minutes along the North Sea coast is the seaside town of Cromer. The promenade has a quintessentially English feel, with a traditional pier and brightly painted beach huts lining the walkway to the beach. 
On the afternoon of our visit, the weather decided to take a turn for the worse! So after a rather wet and blustery walk on the beach, we retreated to the Doggie Diner Cafe where we met Sue from East Ruston Cottages who had arranged our stay.
I've been fortunate to meet so many lovely like-minded people through running Dotty4Paws. We always have so much in common, and the conversation never runs dry as we talk 'dog' the entire time! It was no different with Sue. Amidst much canine chatter, we enjoyed a tasty panini, whilst Pops and Gertie polished off a doggy cupcake between them.
Doggie Diner is an absolute must if you're in the area. It is doggy paradise. With their very own dog menu and an impressive selection of doggy biscuits and cakes to choose from, it's guaranteed to get tails wagging. What's more, the staff are so incredibly friendly and welcoming, we were made to feel very at home.
Dog Friendly Beaches near Winterton on Sea
We couldn't visit this part of Norfolk without a trip to see the iconic lighthouse at Happisburgh. Home to the oldest working lighthouse in the country, it really is an impressive sight towering above the cliffs in all its stripey glory!
The beach below is just as impressive and surprisingly unpopulated, with far-reaching expanses of white sand as far as the eye can see. I tried to get Gertie to pose on the rocks, but other things proved far too interesting, so a photo by the lighthouse had to suffice!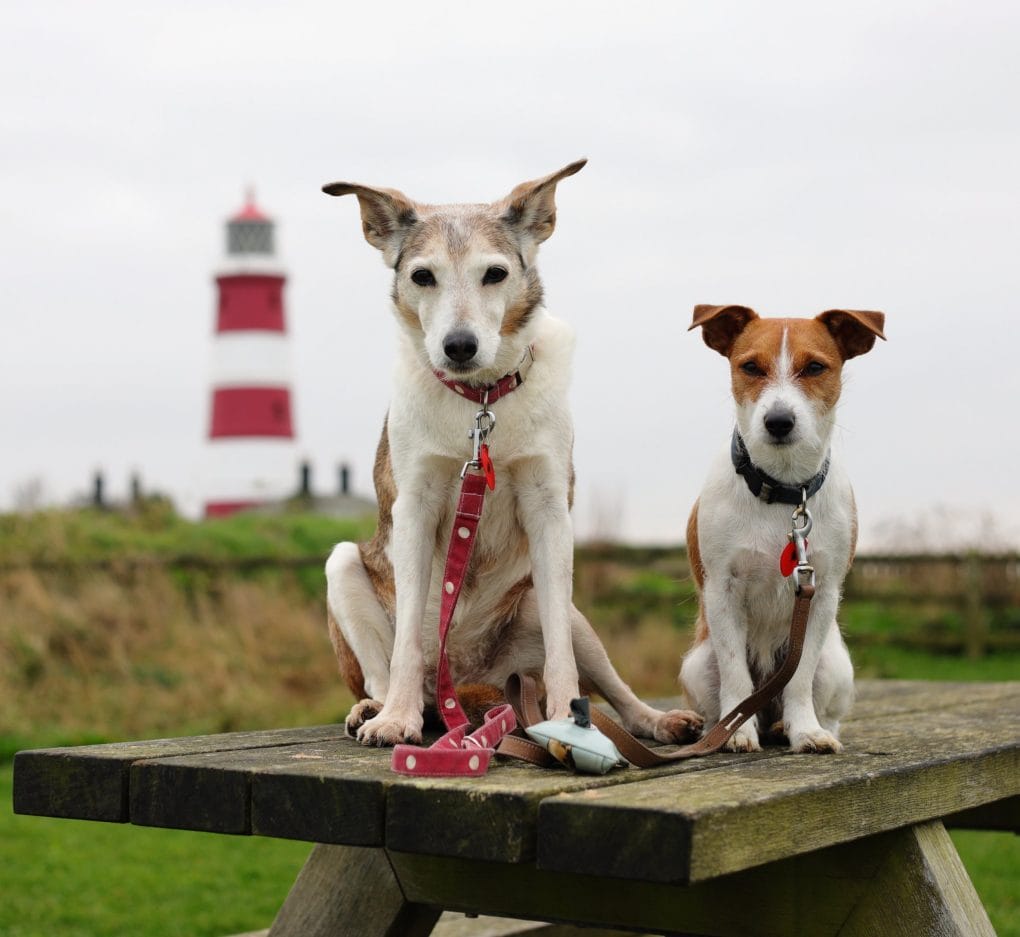 Without a doubt though, Sea Palling is my favourite beach we visited during our stay. Don't be put off by the slight tatty approach to the beach! As soon as you step onto the sand, it is stunning and you can walk for miles without seeing hardly a soul. 
Just a short drive from the beach is one of the largest tithe barns in the country, which is home to Dunes Cafe. Luckily [for my waistline!] we only discovered this amazing eatery just before our journey home. The food is fabulous, and it's so dog-friendly. We'll definitely be returning on our next visit to Norfolk!
A Perfect Dog Friendly Cottage in Norfolk
It has been the perfect little break away in every respect, and if you're looking for a very welcoming dog-friendly place to stay, you really can't go far wrong with this little gem of a cottage. 
The property is managed by Sue who runs East Ruston Cottages. They have a wide selection of holiday homes in Norfolk, many of which welcome an unlimited number of dogs.
It's no surprise that they have won several dog-friendly self-catering awards. The communication from Sue prior-to and during your stay was second to none and nothing was too much trouble.
If you're after a totally pawesome break do check out their website, I'll definitely be booking with them in the future. 
If you've visited beautiful Norfolk with your dog, we'd love to hear all about your holiday and your favourite dog-friendly places to visit.
Woofs and Wags
Kate, Pops and Gerts
xox