Ever since setting up Dotty4Paws, I've wanted to visit North Norfolk. So, when Angela from Lark Cottage got in touch and invited us to stay in her luxury dog friendly holiday cottage, I leapt at the chance.
With so many places in the area welcoming dogs, I was sure I was going to love it.
A Luxury Dog Friendly Cottage in Norfolk near the Beach
Lark Cottage sleeps 8-10 people and is situated in Titchwell, a small, picturesque village on the North Coast of Norfolk. [Yes, it is as cute as it sounds!] Titchwell is conveniently located close to lots of tourist attractions, beaches and local towns, so is the perfect base from which to explore this breath-taking coastline. 
Lark Cottage is set over three storeys. It boasts high ceilings, rustic floors, tasteful decor and a carefully chosen selection of objet d'arts to give it that homely feel. It really is a very special place indeed.
A cosy welcome
The minute we stepped through the front door I knew that Pops and I were going to feel incredibly at home. Greeted by an impressive flag stone hallway, adorned with tasteful antique furniture, we made our way through to the main living area. A fabulous light and airy space which opens out onto a patio and enclosed rear garden.
A glass-roofed lean to on the back of the property makes the most wonderful living area. The perfect place to sit, relax and admire the sea views which can be enjoyed from the garden.
The open plan kitchen/ dining room has been carefully designed to give the cottage a genuine 'family' feel. The kitchen has every amenity, not to mention cooking essential, you could wish for. There is also a utility room, with a washing machine, tumble dryer, additional fridge freezer and enough crockery to hold a banquet! 
Beyond the dining area, and to the front of the cottage, is the living room. Complete with an open fire, Catch Up TV, free unlimited WiFi and comfy sofas, this really is the place to cosy up and hunker down on chilly Winters evenings. 
A Dog Friendly Enclosed Garden
The outdoor space is so important when looking for a dog friendly place to stay. Whenever I travel with Pops I always breath a sigh of relief when places have an enclosed garden. It's very rare Pops needs a comfort break in the middle of the night, but the last thing I want to be doing is standing outside in my PJs in the wee small hours! 
There's an impressive outdoor dining table and chairs, complete with parasol, so you can enjoy those balmy evenings on the patio. Open up the french doors on the back of the cottage, and it really would be the perfect Summer's scene for families or groups of friends to enjoy.
Doggy House Rules
Understandably dogs are not allowed upstairs, but they are welcome on the furniture downstairs – if you use the throws provided. Lark Cottage welcomes an unlimited number of dogs [music to my ears!] Some recent guests had eight dogs I noticed in the visitors book!
In fact, we were asked if we would like to bring Gertie (Poppy's 12 week old sister) but I decided to leave her bonding with Granny and Grandpaw for the week! [Much to Poppy's relief! Who wants a pesky little sister hanging around when you're trying to relax!]
There is a large basket in the utility room full of doggy essentials. Towels, bowls, dog treats, dog brushes. Even identity tags with contact details of the cottage – just incase your furry friend decides to go exploring without you!
Bedrooms and Suites
This dog-friendly cottage on the Norfolk coast oozes luxury. With four bedrooms in total, I was rather spoilt for choice! However, after making my way up to the third floor, there was no contest!
The master suite is just stunning. Complete with a chase-long, bay window, crisp white sheets and even a telescope to look out to sea, my decision was made! Adjacent to the bedroom is the most beautifully decorated bathroom which has both a bath and shower. I was in heaven!
Dog Friendly Days Out in Norfolk
There are so many maps and information books in the cottage. Angela has gone out of her way to make everything easy to find. [Even for someone like me who can get lost anywhere!]
Brancaster Beach
On the doorstep, about a 15 minute walk away, is Brancaster beach. It is accessed through the nature reserve, of which there are many in the area. The flat Norfolk scenery is such a contrast to the rolling downs of Wiltshire at home. You can see for miles and miles, the landscape is stunning and so unique.
I couldn't get over the beaches. You can stroll along the vast expanses of white, golden sand without seeing another soul – just bliss!
Lark Cottage is situated just off the main coastal road, so everywhere is very accessible. Pops and I absolutely fell in love with the area. There are so many beautiful beaches and picturesque villages.
After exploring Brancaster and Old Hunstanton on the first day, we decided to head to Wells Next The Sea on day two.
Wells Next The Sea Beach
I'd heard so much about this beach, and seen so many photos of the colourful array of beach huts that line it's shores. Boy! I was not disappointed, it is amazing! I could have spent hours admiring them all. There's something so quintessentially British about beach huts, I just love them.
In the car park there's The Beach Cafe, which is famous for being dog friendly. They even have a 'doggy bar' outside for thirsty pups. Dogs are allowed inside too, which is such a bonus on rainy days.
Holkham Hall Estate and Village
After Wells, we headed to Holkham Hall. An imposing 18th Century Country House owned by the Earl of Leicester. The vast grounds of the house are home to a large herd of fallow deer and dogs are welcome to explore the footpaths on leads.

There is also a shop, cafe (which allows dogs in the courtyard) and a series of events that take place all year round. It's well worth a visit and if you park in the village car park (on the sweeping driveway that leads to the estate) you don't have to pay to park. 

Holkham Beach and Nature Reserve
Opposite Holkham village is the nature reserve and beach. This is a must. It's like no where else on Earth! We didn't even reach the shoreline – the tide was so far out, it would have taken us almost an hour to get there by the time we'd meandered through the pinewoods. With Pops' little legs already tired from a full day of walkies, we ventured half way across the dunes, for the obligatory photo shoot, and then turned back towards the car!
Holmes Next The Sea Beach
Pops has knocked the shopper out of me, hence our week of beach crawls! Once upon a time (in my pre-Poppy days) I was a self confessed shopaholic! These days, give me a beach and a coffee shop any day! As long as my girl is welcome, I'm happy!
We were incredibly lucky with the weather during our stay. Three out of the four days, we woke up to beautiful sunshine. However, the Thursday was rather cloudy and drizzly to start off, so we headed for yet another beach! 
This time to Holmes Next The Sea, just along from Old Hunstanton beach – in fact you can walk between the two.
After a rather wild walk alongside the waves, we retreated to Thornham Deli for a much needed cream tea. [When is a cream tea not needed?] There were so many happy looking dogs sat in the cafe. All of them impeccably behaved, and enjoying quality time with their humans. I love places that treat dogs as family. I'd highly recommend a visit, not least for the delicious coffee, yummy food and quirky gift shop. 
A fond farewell to our luxury dog-friendly cottage in Norfolk
On our final morning, we couldn't leave without another beach adventure. So after packing up our belongings, and rather reluctantly saying a fond farewell to Lark Cottage, we headed for Brancaster beach again before embarking [no pun intended] on our four hour journey back to Wiltshire.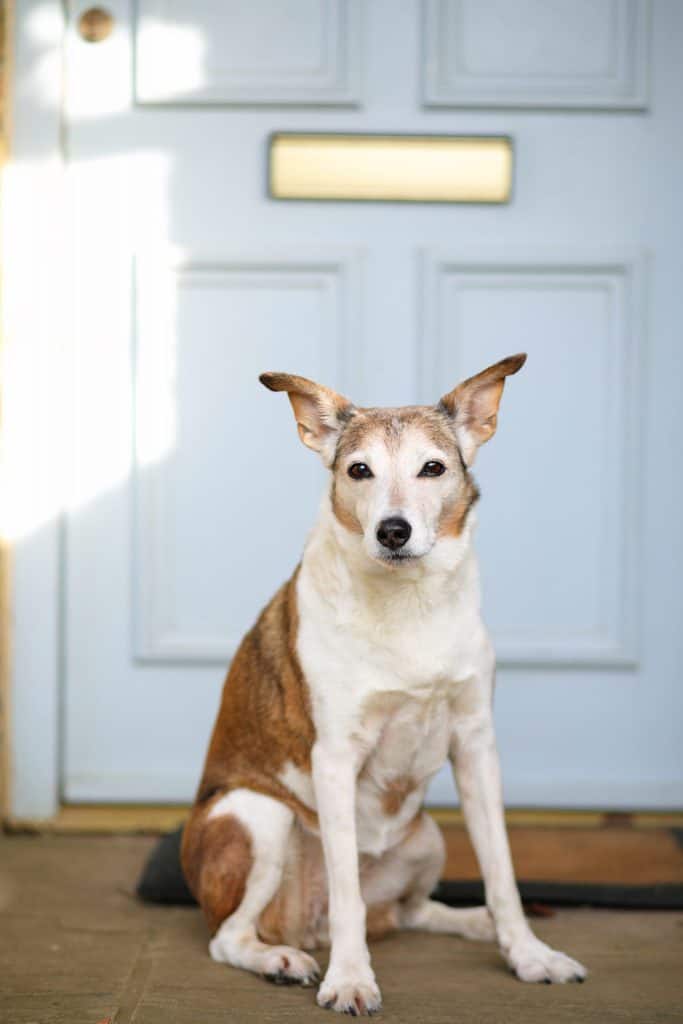 I love my adventures with Pops, and have such fond memories of all the places we've been privileged enough to stay. Lark Cottage and Norfolk will always hold a very special place in my heart though. I always thought I'd love this rugged, dog-loving county, but it has far exceeded my expectations. 
If you are looking for a luxury dog-friendly cottage on the Norfolk coast I really cannot recommend it enough.
Being a southerner, I've never explored this part of the country before, but we'll definitely be back. Norfolk you have been perfect in every way!
A huge thank you to Angela for inviting us to stay. Your beautiful cottage really is something else – a true home from home. We feel incredibly humbled to have stayed here.
If you've stayed in North Norfolk, we'd love to hear your favourite dog-friendly places to visit. As you can tell, we're already planning our next trip!
Woofs and Wags
Kate and Pops
xox